Functional Medicine in Northbrook

Learn how your symptoms in Northbrook may relate to nutritional deficiencies or imbalance. What does your blood reveal about you? Functional medicine in Northbrook will help you connect the dots and find the root cause.
Your individual biochemistry is as unique as your thumbprint. Your metabolism results from a complex interaction of genetics, age, lifestyle, and environmental stresses.
Do you feel terrible but your doctor says all of your tests are fine?
Do you want to finally find out what is happening with you and do something about it - so that you can feel great again?
Do you want to take proactive steps to secure your health and wellness and reduce your chances of getting sick?
What Is Functional Medicine in Northbrook?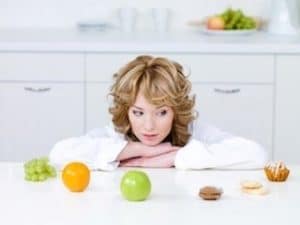 It's increasingly evident that human diseases are most often related to lifestyle. It should be in theory preventable. Changes in habits in western countries no doubt constitute a stress to the human body. The stress of modern life; reduced physical activity; consumption of manipulated and processed food as well as chemicals including pharmaceuticals all contribute to our decrease in resistance to disease.
Symptom Profiling → Laboratory Analysis → Nutritional Management
Dr. Bloom of Nucare in Northbrook is a graduate of Functional Medicine University. Functional Medicine looks at the reasons WHY a certain condition may be occurring physiologically. Some of the functional nutrition testing that she offers includes:
Comprehensive Blood testing
Adrenal Stress Index testing
Food Sensitivity/allergy testing
Gastrointestinal testing
Thyroid/Hashimoto's testing
Intestinal Permeability/Leaky Gut testing
Amino Acid testing
Heavy Metal Toxicity testing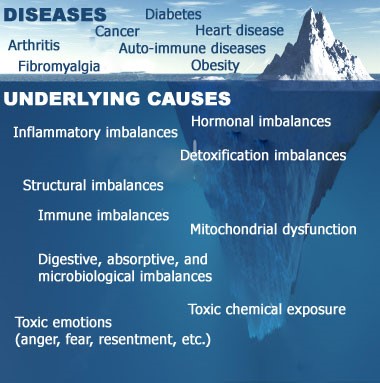 CONDITIONS THAT MAY BENEFIT FROM FUNCTIONAL MEDICINE AND SUPPLEMENT GUIDANCE:
Hashimoto's
Celiac Disease
Elevated Blood Sugar
Elevated Cholesterol
Hypothyroid
ADHD
Irritable Bowel Syndrome
Fibromyalgia / Chronic Fatigue
Gluten Intolerance
Food Sensitivities / Allergies
Obesity
Rheumatoid Arthritis
Anemia
Osteoporosis
Constipation
Gallbladder Dysfunction
Fertility
Premenstrual Syndrome
Autoimmune Disease
Menopausal Hormones
---
WHAT IS THE DIFFERENCE BETWEEN A FUNCTIONAL BLOOD CHEMISTRY ANALYSIS & "REGULAR" BLOOD TESTING?
When interpreting blood chemistry lab results, there are two different types of ranges, Pathological and Functional. The pathological ranges look for disease, whereas functional ranges are used to assess for probable risk of disease before disease develops. These imbalances should be used as markers, indicating something that is not as good as it should be; or they can be a sign of a developing condition that is not bad enough to treat medically…at least not yet. I have dedicated hundreds of continuing education hours learning to differentially manage these blood chemistry patterns. Most medical practitioners today use only the Pathological Ranges and do not address the subclinical or functional findings until they become a serious medical condition. For most people, the goal is to identify developing medical problems and prevent them from manifesting into serious medical conditions.
---
FUNCTIONAL BLOOD CHEMISTRY EVALUATIONS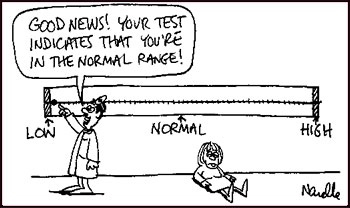 Healthy people have blood chemistry findings that fall within a fairly narrow range. Significant deviations from the optimum range may indicate a variety of poor health conditions.
Functional Blood Chemistry Analysis takes the age-old procedure of blood chemistry and gives it a much overdue makeover. We look at your blood results in such a way to discover patterns of dysfunction and treat them before they become a serious problem. These may include cholesterol, insulin resistance, metabolic syndrome, blood sugar regulation, thyroid function, inflammation, hypoglycemia, digestive issues, adrenal function, gall bladder dysfunction, liver enzymes, immune function, anemias, autoimmune, allergy and food sensitivities, menopausal hormones, bone loss, fatigue, etc.
---
"WHAT VITAMINS SHOULD I BE TAKING?"
This is one of the questions most frequently asked of a health care professional. The answer varies for everyone because everyone is different on a nutritional, biochemical, stress, hereditary, functional and dietary level.
Everyone has different needs and challenges at different times in their life.
We can determine which nutritional products are appropriate for your individual needs.
We can design and implement a nutritional program to restore your body to its natural, healthy state.
We can provide early detection of potentially life-threatening health conditions.
Our office at Nucare offers a customized approach to help our patients determine what vitamins are appropriate for their individual needs. If you are interested in learning more about the functional medicine services we offer at Nucare in Northbrook please call our office today.
OFFICE HOURS
---
Monday
9:00am - 6:00pm

---
Tuesday
9:00am - 2:00pm
---
Wednesday
Closed
---
Thursday
9:00am - 6:00pm
---
Friday
Closed
---
Saturday
9:00am - 2:00pm