The Arpwave unit in Northbrook is a Class 2 medical device that the FDA has authorized for the following uses:
Muscle Re-education
Relaxation of muscle spasms
Increased local blood circulation
Prevention and retardation of disuse atrophy
Maintaining and increasing range of motion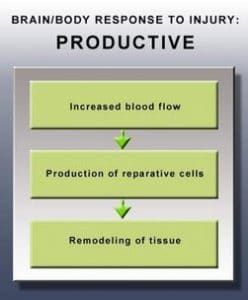 ARPWave Unit Is A Unique And Exceptional Electrotherapy Modality in Northbrook
The ArpWave unit is a distinctive breakthrough in the treatment of soft tissue rehabilitation. The Arpwave unit has a unique wave-form that delivers higher levels of direct current and resonates with the human system. This bio-coupling effect (resonance with the body's own structures) enables the
Arpwave unit to deliver its effective power with minimal resistance from the body, allowing faster results over other modalities.
The ArpWave device possesses specific characteristics that are not found in any conventional therapeutic neuromuscular electrical stimulator (interferential, microcurrent, galvanic, Russian stim, iontophoresis). The ARP uses direct current (DC) compounded with a high-frequency double exponential, patented background waveform. This background wave is harmonious with the body and significantly reduces skin and fatty tissue impedance allowing much deeper penetration of the direct current.
Also, the unique waveform produces minimal inhibitory protective muscle contractions allowing an active range of motion during therapy and training. This permits eccentric (lengthening) contractions to occur which are critical to treatment.
Quicker pain reduction, faster healing, muscle conditioning, and re-education, and more dramatic increases in range of motion may be obtained. We can achieve significant positive results with patients on fewer sessions so that they can return to work, sports, and other activities much more quickly, often with fewer than four, 8 to 15 minutes treatments. Results are longer lasting, too, since its deeper penetration dissipates the "charged injury" that must be released before healing can accelerate.
Other electrotherapy modalities enable patients to temporarily feel better while using their machine, however, because the penetration and characteristic waveform may not be sufficient, there are few long-term results.
The Arpwave unit is extremely versatile with applications across a wide range of neuromuscular, musculoskeletal, and pre and post-surgery conditions. This includes whiplash, spinal disc injuries, meniscus knee sprains and tears, deep hip flexor injuries, headaches, lumbar scoliosis, rotator cuff inflammation only to name a few.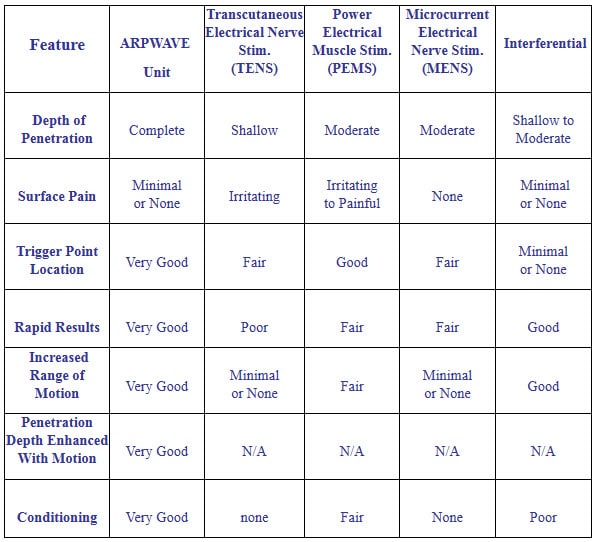 OFFICE HOURS
---
Monday
9:00am - 6:00pm

---
Tuesday
9:00am - 2:00pm
---
Wednesday
Closed
---
Thursday
9:00am - 6:00pm
---
Friday
Closed
---
Saturday
9:00am - 2:00pm